Took a page from the book of @amuletsmusic and made a tape loop/ Baby Bot combo. There are four of these Octobots available in the shop, link in bio.
Just put this guy up for sale, link in bio. Love the way it illuminates in the dark 👶 . . . . . #sounddesign #electronicmusic #guitarpedals #pedals #experimentalmusic #experimentalart #synth #synthesizer #modular #modularsynth #creative #art #music #recording #audioengineering #audiovisual #ambient #electronica #fxpedals #moonarmada #babybot #lofi #arttoy #circuitbending #electronics #синтезатор #электроннаямузыка
Just posted some mini Bots on the shop. These ones are all made from really old dolls, from the 60s and 70s. Follow the link in bio for info 👶 . . . . . .
Faberge Egg 🥚💎♦️ @djtennis . . . . . . . #synth #synthesizer #modular #modularsynth #pedals #guitarpedals #sounddesign #electronicmusic #experimentalmusic #circuitbending #diymusic #diyelectronics #cassette #audioengineering #lofi #toyart #experimental #noise #musicproduction #recording #music #art #creative #babybot #moonarmada #maker #process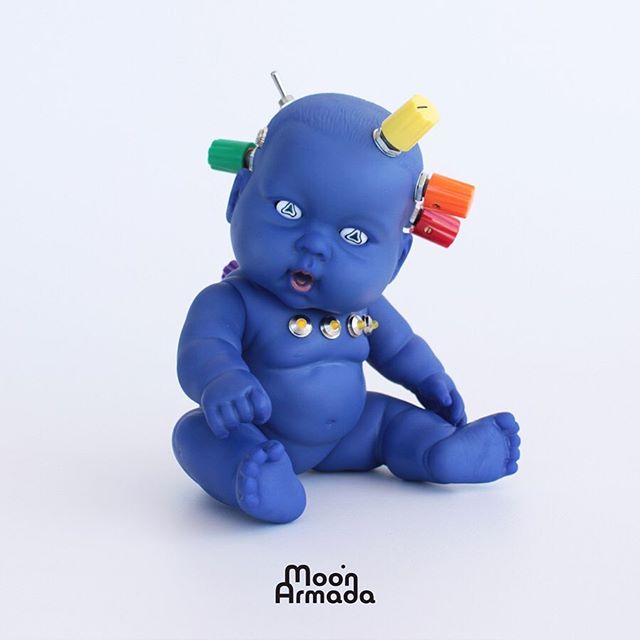 Frog eyes here is the last of the Blue Baby Bots 💙👶 Available through the link in bio. . . . . . #experimentalmusic #experimentalart #synth #synthesizer #modular #modularsynth #creative #art #music #recording #audioengineering #audiovisual #arttoy #actionfigure #electronica #fxpedals #moonarmada #babybot #lofi #cassette #circuitbending #electronics #creepydolls
It was sad to see these guys go, but most of them are off to their new homes. Thanks to those of you who adopted one. 3 are still available, dm for more info 💙👶🎛 . . . . . . . #experimentalmusic #experimentalart #synth #synthesizer #modular #modularsynth #creative #art #music #recording #audioengineering #audiovisual #arttoy #actionfigure #electronica #fxpedals #moonarmada #babybot #lofi #cassette #circuitbending #electronics #creepydolls #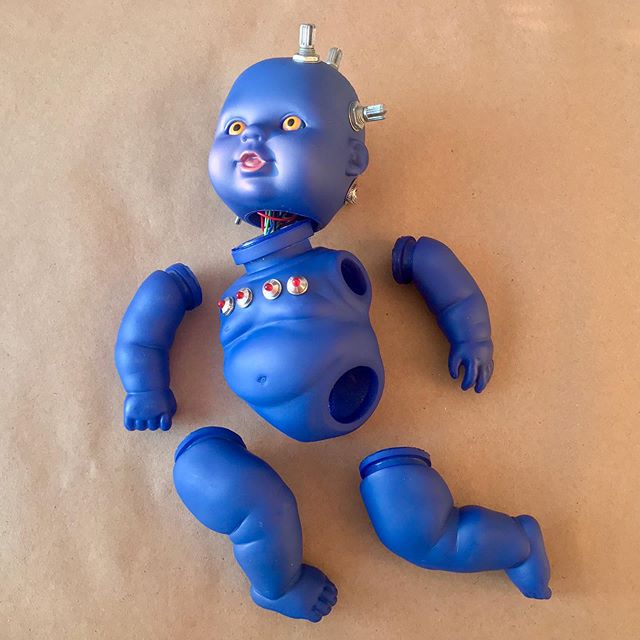 Can't wait to@see what @calebbrainweight does with this 👶💙 . . . . . . #sounddesign #electronicmusic #process#guitarpedals #pedals#electroharmonix #experimentalmusic #experimentalart #synth #synthesizer #modular #modularsynth #creative #art #music #recording #audioengineering #audiovisual #ambient #electronica #fxpedals #moonarmada #babybot #lofi #arttoy #circuitbending #electronics #синтезатор #электроннаямузыка
Practice makes perfect... or at least permanent. Playing with different setups on the floor. Here the Digitakt is sending clock and triggers to many of the Baby Bots, with effects processing from Clouds, Rings, Field Kit GX, as well as Avalanche Run pedal. Ornament and Crime in Piqued mode, along with some of the bots are used for modulation. Mother-32 and Kastle in there too, both co trolled by Baby Bots, and sub-mixing into the Field Kit and FKFX. . . . . . . #synth #synthesizer #modular #modularsynth #eurorack #digitakt #moog #bastl #earthquaker#circuitbending #electronicmusic #soundart #music #art #creative #experimental #experimentalmusic #babybot #moonarmada #pedals #fxpedals #sounddesign
Clearing some space in the new studio, so this little guy is now available. 4 cascaded oscillators, CV input, and power starve knob. DM if interested 👶 . . . . . . #sounddesign #electronicmusic #guitarpedals #pedals #electroharmonix #experimentalmusic #experimentalart #synth #synthesizer #modular #modularsynth #creative #art #music #recording #audioengineering #audiovisual #ambient #electronica #fxpedals #moonarmada #babybot #lofi #arttoy #circuitbending #electronics #синтезатор #электроннаямузыка
Using a light-sensor as an expression controller: simple but fun 👶🎛 . . . . . . . #synth #synthesizer #guitarpedals #pedals #fxpedals #modular #modularsynth #analog #gear #gearporn #recording #audioengineering #music #sound #soundart #circuitbending #art #creative #noise #experimentalmusic #moonarmada #babybot #earthquakerdevices #toyart #indietoys #toys #doll #creepydolls @earthquakerdev